An agreement signing ceremony was held at Beijing Hotel on April 24 for the first batch of global partners of 2019 Beijing International Horticultural Exhibition (hereinafter referred to as "Beijing Expo 2019"), which were Air China, CYTS, Bank of Beijing, Beijing Shunxin Holdings, and Vanke. Vice-President of the China Council for the Promotion of International Trade (CCPIT) and member of the Organizing Committee of Beijing Expo 2019 Wang Jinzhen presented the partnership plaques to these collaborative corporations on behalf of Beijing municipal government. It was a great breakthrough in the commercial brand sponsorship of Beijing Expo 2019.
According to Ye Dahua, Deputy Director-General of Beijing International Horticultural Exhibition Coordination Bureaus (BIHECB), Beijing Expo 2019 is a remarkable worldwide event with more than 100 participants from various countries and international organizations, and is an excellent platform for international brand sponsors to enhance their brand value, to show the world their strength and to manifest their social responsibility.
It is reported that, since the launch of the sponsorship program in October 2016, a number of central enterprises, stated-own enterprises, foreign companies, and private companies have approached BIHECB and five of them, including Air China, CYTS, Bank of Beijing, Beijing Shunxin Holdings, and Vanke, have completed the negotiation and rapidly confirmed their partnerships. These five global partners will take part in the preparation and operation of Beijing Expo 2019 in the fields of airline service, the Expo Park operation, hospitality & tourism, financial service, green food, pavilion construction, and so on.
In addition to these five corporations, Beijing Expo 2019 has made steady progress in the partnership negotiation with many well-known enterprises in various industries both at home and abroad, and are striving to explore more space for cooperation.
It can be learned from Deputy DG Ye that, besides the commercial brand sponsorship, three other major parts of marketing have also been fully implemented.
In the development of licensed merchandise, the first call for licensed merchants has already closed and, after experts' evaluation of applications and proposals, the first 10 licensed merchants in 10 product categories have been declared at the official website of Beijing Expo 2019. An agreement signing ceremony is expected to occur in the first half of the year with the intent to launch the first batch of licensed products in June.
As to ticketing, it is already in a key preparatory stage. A draft ticketing program has been made, along with a successful launch of a research on ticketing policy to attract all parties' contribution into a more specific study and discussion. It is expected that the call for ticketing partnership will be open in the third quarter of 2017 with the intent to make the decision on the design of Beijing Expo 2019 tickets at the end of 2017. The ticket sales will be launched in the early half of 2018.
Along with the construction of commercial supporting facilities in the Expo Park and the stipulation of investment invitation policies, the call for investment in commercial facilities in the Expo Park will be open to the public at a proper time.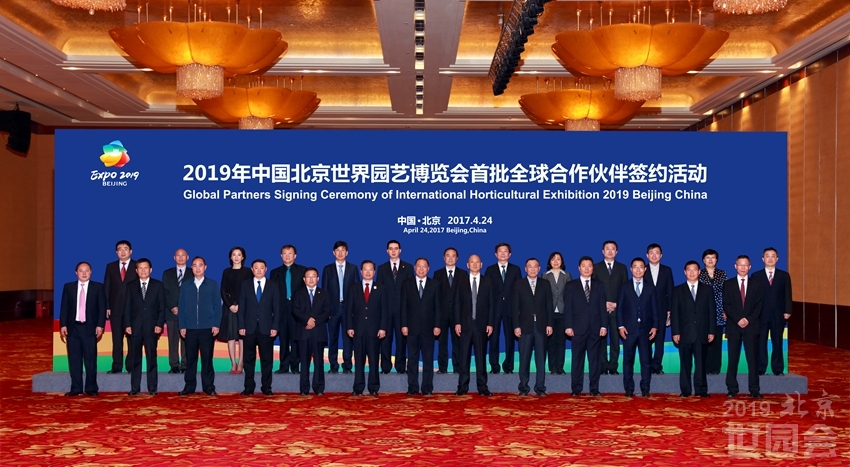 At present, BIHECB is calling for service suppliers openly via its official website and approved companies can become the service suppliers for Beijing Expo 2019 to provide service for exhibitors from all over the world.
Zhou Jianping, Executive Deputy Director-General of BIHECB, has stated that the market development of Beijing Expo 2019 is about to enter a new stage. With the concept of being "innovative, coordinative, green, open and sharing", Beijing Expo 2019 will continue to attract various parties from the society to take part in the Exhibition so as to make it a unique, splendid and memorable horticultural gala.
http://images.china.cn/site1000/2017-04/27/18d07c34-af28-43de-95b5-955fdabf5af0.JPG