On July 13, 2017, a promotional event for the 2019 Expo for Southern Pacific countries was held at the Astana Expo 2017 in Kazakhstan.
2017-07-18
On July 13, 2017, a promotional event for the 2019 Beijing Horticultural Expo (2019 Expo) for Southern Pacific countries was held at the Astana Expo 2017 in Kazakhstan. Representatives from Southern Pacific countries including Fiji, Kiribati, Marshall Islands, Nauru, Samoa, Tonga, Papua New Guinea and Tuvalu attended the promotional event. During the promotional event, Mr. Wang Jinzhen, Vice Chairman of the China Council for the Promotion of International Trade (CCPIT) and the Commissioner General of the 2019 Expo, spoke about the details of the upcoming 2019 Expo.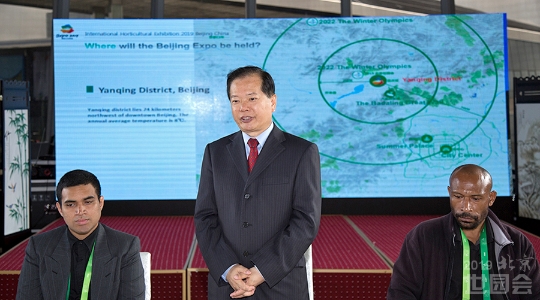 Approved by the International Association of Horticultural Producers (AIPH) and recognized by the Bureau International des Expositions (BIE), the 2019 Expo will be the highest professional exposition ever hosted by the Chinese government and organized by the City of Beijing, said Mr. Wang. The 2019 Expo, with the theme "Live Green, Live Better", will be held from April 29 to October 7, 2019, which would last for 162 days. The event is estimated to attract an audience of more than 16 million people. So far, more than 80 countries have expressed their intention of actively participate in the event, and nearly 30 countries and international organizations have confirmed in writing their participation. The Netherlands, India and other countries have already sent teams to the Expo on field trips for survey and site selection. The 2019 Expo will provide a stage for countries around the world to demonstrate their horticultural industries, unique culture, tourism resources, products and technology, help Southern Pacific countries cooperate with China in terms of horticulture industries, economy and trade, and enhance the cultural understanding and friendship among different nations.
After watching the promotional film, government representatives praised the 2019 Expo for its organization and preparation work. Cue, a representative from the National Pavilion of Samoa, said that his country has a very unique horticultural industry, and hopes that his country's horticulture can be promoted at the 2019 Expo.Prasad, a government representative from Fiji, on behalf of his country, thanked the organizers of the 2019 Expo for the information provided during the promotional event, praised the 2019 Expo for its beautiful and creative designs for pavilions, and said that the 2019 Expo will be a wonderful time for horticulture. Government representatives inquired about the exhibits on the 2019 Expo and the inspection and quarantine issues related to these exhibits before confirming that they would bring back home the information for consideration by the relevant government departments of their countries.