On August 26, the construction site of the park for the Beijing Expo 2019 was bustling. It hosted a show entitled "I make my contribution to BIHE – Tribute to the construction workers of the park".
2017-09-07
Park Construction in Good Order, Leaders and Masses Doing Their Part
The year 2017 has witnessed the full development of the Beijing International Horticultural Exposition, and all major internal and external projects have been implemented in good order. In the exhibition park, they are many crane towers. Workers are busy operating excavators, hoists, lifts and other heavy machines with thundering sounds. Transport vehicles are traveling around the park. All these create a unique picture. These lovely construction workers are the ones who toil and sweat here making contribution with their wisdom to the orderly construction of the park. So far, the Tiantian Mountain Piling Project and the Guirui Lake Excavation Project have been completed, and the core landscape area has been shaped. Construction of the ring road, comprehensive tunnels, water and power supply infrastructure is in full swing. Greening project has been set into motion. 80% of the work in public landscape construction will be finished by the end of 2017.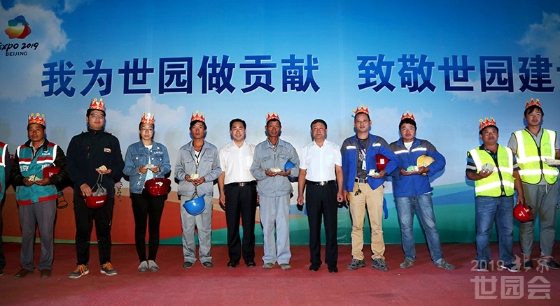 It is reported that the event of "I make my contribution to BIHE – Tribute to the construction workers of the park" was initiated in July in Yanqing District. The performance group will visit temporary houses and other places on construction sites and send their regards to the workers with culture shows.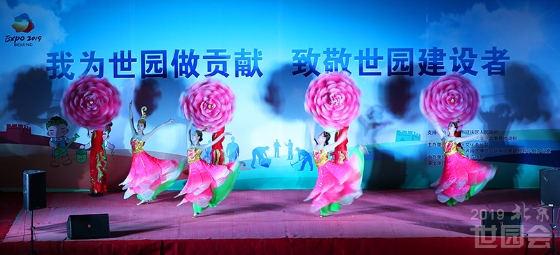 Yanqing District is reported to develop as a result of the Beijing International Horticultural Exposition. The project promotes the Yankang Road expansion project, construction of temporary houses for relocated citizens and other supporting service and security work. At the same time, Yanqing District has seized this opportunity to develop horticulture industry. The construction of Sinoflor's "Valley of 3,000 Flowers" yields initial results. Besides, to serve the development of BIHE and the horticulture industry, Yanqing District provides talent training on greening, conservation, gardening and other skills to relocated villagers and other farmers living in surrounding areas. Currently over 10,000 people have joined the training, and 863 farmers have received intermediate certificate of flower planting and gardening. All industries in the entire district have carried out the "I make my contribution to BIHE" event, encouraging leaders and the masses in the district to do their best and join the work concerning the ten service guarantee items of BIHE. The district has created a good environment where "everyone plays their part and contributes to BIHE".