On September 23, 2017, franchised retail stores for the 2019 Horticultural Expo opened for business.
2017-09-27
On September 23, 2017, franchised retail stores for the 2019 Horticultural Expo opened for business. The opening ceremony was held at the plaza in front of Gongmei Building at Wangfujing, Beijing. This event, which was organized by Beijing Gongmei Group, was hosted by the affairs coordination office of the 2019 Horticultural Expo. The Franchised Flagship Store for the 2019 Horticultural Expo opened on the fourth floor of Gongmei Building, along the pedestrian street of Wangfujing, which is known as the Golden Street.
Thronging crowds gathered for the opening ceremony of the horticultural feast
With the melodious tune of the Expo's song Expo Family, the opening ceremony started with passionate and elegant dances. Franchise plates were presented on stage to representatives from eight franchised stores: Beijing Fanrong Culture Development, Beijing Yuanlong Yatu, Beijing Gongmei Group, HONAV, Beijing Tiancai Textile & Garments, Shenzhen Gold 100 Art, Beijing Badaling Tourism, and Beijing Olympic Rings Sales Center.
The event climaxed with a catwalk show by young models who demonstrated the franchised products to the guests. The leaders inaugurated five franchised stores by cutting the ribbons: Wangfujing Gongmei Building Flagship Store, Bird's Nest Gift Store, Xidan Book Building Store, Badaling Great Wall Store, and Yanqing Downtown Shop. These stores are all located in Beijing's key tourist attractions and landmark buildings, which are easily accessible to Chinese and overseas visitors. The Beijing International Horticultural Exhibition Coordination Bureau (BIHECB) will open online stores with leading Chinese e-commerce platforms to make these products more accessible to the public and meet their needs.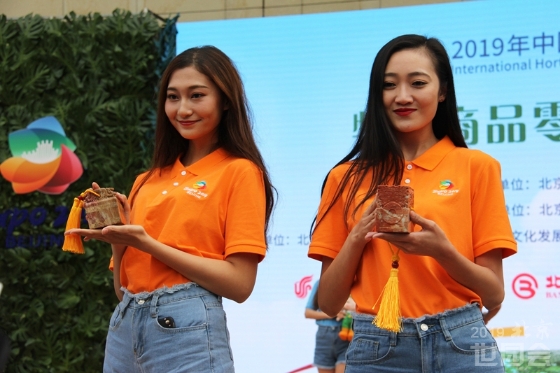 Almost 300 uniquely designed franchised products are available
Almost 300 franchised products categorized into handicrafts, badges, stationeries, household articles, garments and accessories, stamps, souvenir coins, precious metals, horticultural products and mascots were announced during the opening ceremony. Traditional processes and technologies were included in the research and development of these products, with focus on design and sensorial experiences, ancient Chinese esthetics, and modern trends. A tea set called Fuzhi was designed with a bottle gourd pattern, which symbolizes the ideas of best fortune demonstrated by round shapes with three dots arranged in a straight line. This unique design reduces the amount of water needed for making tea and makes it easier to keep the tea's fragrance. Another product, a chinaware peony called Expo's Peony for a Flourishing Age, was designed with the theme "national chinaware and national flower in bloom forever". Its stamens and pistils, petals, and leave veins are all porcelain. Its smooth and dazzling flowers are full in shape and colorful, and are lifelike due to its elegant and fine cutting processes.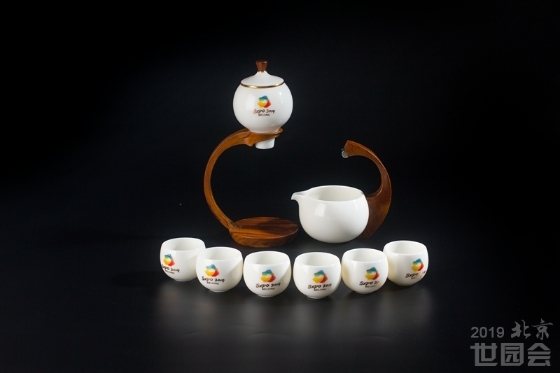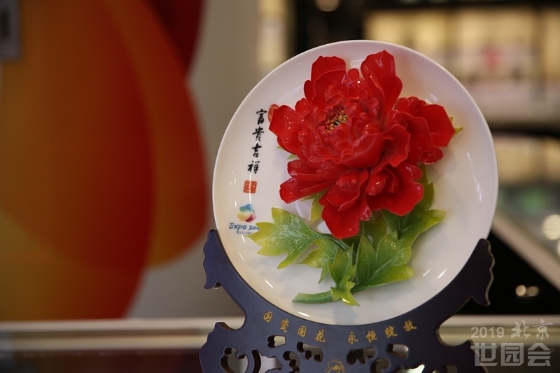 By taking advantage of the available expertise in Beijing, known as a City of Design, these ingeniously, originally, meaningfully and creatively designed franchised products used horticultural elements in an innovative manner, allowing these to be better received by the market. A product called Plum Blossoms, Orchid, Bamboo and Chrysanthemum Leave Veins & Stamp Collection uses the natural shapes of leaves and natural textures in painting traditional Chinese elements, including mountains and rivers, figures, flowers and birds, on natural tree leaves, blending colorful scenes with the natural beauty of tree leaves. This product combines leaf vein paintings with stamps, blending poetry, calligraphy and painting, creating an artistic realm of unique charms and elegant nature, and depicting the Expo's vision of Live Green, Live Better. China's Ten Flowers Silver Set is a ten-in-one collection made of 999% silver using modern microscopic carving and color printing. Its patterns include microscopically carved decorations, the Expo's mascot and the Expo's slogan, with the images of the "Ten Traditional Chinese Flowers".
These franchised products are in line with the Expo's ideas of environmental protection, expressing the beauty of the Expo and the natural environment, which is the pursuit of the Beijing Expo. Mini Baby Green Children Tableware is a set of reusable cutely designed bowls, plates, spoons and forks, in which natural rice hull fibers were used and glued together with starch adhesives treated at high temperature. These are made in pollution-free processes and are biodegradable after being discarded. This represents the Expo's pursuit of respecting nature, protecting nature, and passing on the idea of green and environmental protection. The first set of fluffy toys of Cute Bud and Cute Flower, and the mascots of the Beijing Expo debuted at the opening ceremony. Made of environmentally friendly materials, these cute toys have innovative and lifelike designs.
The five franchised stores launched almost 300 products that combine practicality and originality, natural beauty and traditional Chinese craftsmanship. These will be popular destinations for relaxation and shopping for souvenirs during the coming National Day holiday, when tourists from home and abroad throng the streets in Beijing.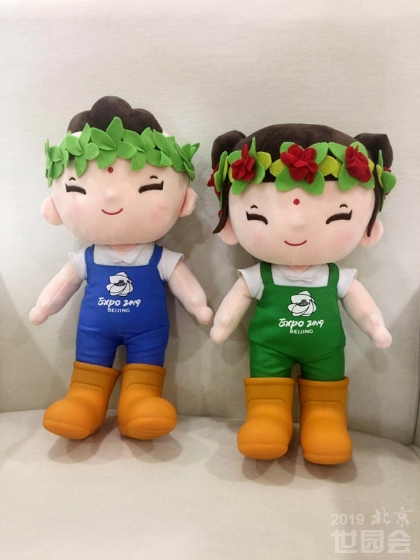 Smart anti-fake technologies were used on the Expo's franchised products
Of all the previous World Expos and Horticultural Expos, the 2019 Beijing Expo will be the first ever to use a smart anti-fake code technology during a large event. The smart anti-fake technology used in the Beijing Expo has three characteristics. First, the "one item, one code" principle ensures that all the items can be traced back to their origins. This will allow buyers to buy what they want without worrying that what they are buying might be faked products. Second, the "scan and use" technology provides greater ease of use. Users do not need to install any apps on their phones. They just need to scan a code to keep informed of what is the latest news about the Expo. Third, the "click to upload" function makes sharing so easy. Users can take selfies and edit them to include the Expo as their background, creating beautiful personalized photos and sending good wishes to the Expo. The use of smart codes is an innovative way of using every franchised product, in order to promote the Beijing Expo and share great stories about it.