In 2019,the Beijing International Horticultural Expo invited a "star" to help explain, its super popularity attracted people to watch, adding a touch of brilliance to the Expo.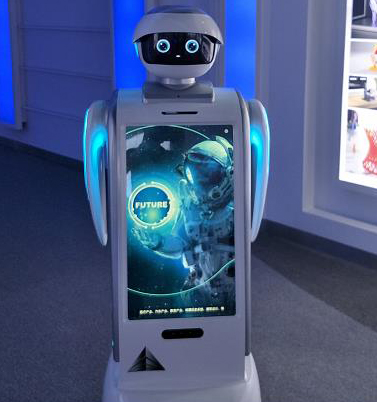 The star is from iBEN ROBOT.It is a commercial robot with a height of about 150 cm and a 27-inch screen, whose design looks very advanced.It plays roles in registration, reception, navigation and guiding, business inquiry, etc. Such robots are mainly used in exhibition halls, medical treatment, transportation, retail,government affairs, and other government-related businesses.
iBen ROBOT was founded in March 2016, and jointly developed an AI enginewithnatural language processing technology (NLP) as the core with the State Key Laboratory of Intelligence Technology and Systems of Tsinghua University. The AI engine has the ability of intelligent question and answer, knowledge map representation, emotional analysis and other large text data mining and analysis, and integrates face recognition, speech recognition and speech synthesis technology. It has multi-modal information processing capability. With AI engine as the core and aiming at the demand of online intelligent information service,iBEN ROBOT has developed online intelligent customer service and intelligent robot telephone. For the application demand of entity service robot,iBEN ROBOT has developed service robot interactive platform and service robot hardware platform, and has independent hardware development and production capacity.
At this Expo,iBEN Robots are mainly responsible for the reception and explanation of China Pavilion, International Pavilion and Living Experience Pavilion. Visitors to thePavilions will be actively received every day. Through voice communication with the robots or touching the large screen in front of the robots,visitors can always inquire about the map of the conference, related routes, exhibition area information and so on. At the same time,iBEN Robots will leadvisitors to visit thePavilions and explain in detail the specific content of these places, passing on the theme of "Green Life and Beautiful Home".