Beijing Expo 2019 will be heldin Yanqing, Beijing from April to October of 2019, lasting for 162 days."Live Green, Live Better" is the theme of Beijing Expo2019, and the five major concepts, namely, "Creation, Coordination, Green, Openness and Sharing" will guide the whole process of the exposition.
2016-03-25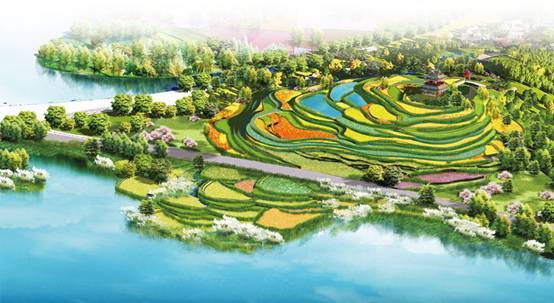 Celestial land of agricultural civilization
Beijing Expo 2019 will be held in Yanqing, Beijing from April to October of 2019, lasting for 162 days. "Live Green, Live Better" is the theme of Beijing Expo 2019, and the five major concepts, namely, "Creation, Coordination, Green, Openness and Sharing" will guide the whole process of the exposition.
Creation: novel originality inspiring mind
"The International Horticultural Exposition not only shows the development success of China, but Chinese people's fulfillment of new development concepts as well. In the exposition, the century-honored garden culture and gardening tradition of China will be integrated to create new hosting concept and method. The frugality spirit will be insisted to attract and enlighten people with novel originalities, so as to left behind some valuable spiritual assets. Taking this opportunity, green production, green conception, and green life shall be widely publicized to arouse the green awareness of the public. Advanced hosting experience and gardening concept of countries around the globe will be used for reference. Rules of International Horticultural Exposition be observed, thus to make the hosting process more professional, regular, and international."
Beijing has advantaged technical and innovation centers to provide tourists with unique and diversified participation and interaction experience. Drawing support from the latest information technology, a smart horticultural exhibition will be hosted. Latest smart terminal display technologies, such as holographic projection, 360-degree spherical display, and wearable mobile terminal will be utilized to enrich exhibition modes. There are also environmental and high-yield household gardening activities for fun, enabling everyone to experience the fun of gardening.
After the 162 days' exhibition period, the Park of Beijing Expo 2019 will be permanently preserved for public leisure and entertainment. For this reason, sustainable utilization is one of the design principles that have been determined since the beginning of planning. The China Pavilion will become the main exhibition hall for Beijing Flower Exhibition. The International Pavilion will become China Horticultural Trade Center. The Life Experience Pavilion will be preserved as a horticultural experience center to enhance people's environmental awareness.
Infinite intelligence is rooted in the people. In order to attract folk wisdom to make Beijing Expo 2019 more colorful and diversified, Bureau of Beijing International Horticultural Exhibition Coordination (the "Expo Coordination Bureau" for short) plans to establish an open platform for originality. On the platform, enterprises and individuals are encouraged to participate in the preparation of the horticultural exposition, as long as their products, services, and ideas accord with the concepts of Beijing Expo 2019. They may recommend their ideas to the platform, and Expo Coordination Bureau will study all of them one by one, and then make prudent comments. Projects will get the opportunity to participate as long as they are suitable.
Coordination: a best line for the ecological composition
The Park of Beijing Expo2019 is located at the ecological conservation area in northwest of Beijing, Tianjin, and Hebei, which is merely 16km from Yanqing Competition Area of 2022 Beijing Olympic Winter Games.
Beijing Expo2019 will adhere to governmental guidance and social participation to promote the coordination and cooperation between government and market. Frugality spirit will be upheld in the exposition to save resources. Functions of the Park before and after exposition will be orderly connected to motivate sustainable development of the region, and to continue the bicycling sport tradition of Yanqing. In summer, canoeing competition can be hosted, and in winter, it will become a natural outdoor ice rink. By hosting winter sports activities, citizens' passion for winter sports will be stimulated, thus kindling their enthusiasm and support for the upcoming 2022 Beijing Olympic Winter Games.
The Project of International Horticultural Exhibition 2019, Beijing, China has been included in Planning Outline for Coordinated Development of Beijing, Tianjin, and Hebei. After the exposition, sustainable development will be advocated to promote the development of sports, culture, leisure tourism, ecological agriculture, and other industries of the region.
Owing to Olympic Winter Games and Beijing Expo 2019, integrated traffic construction of Beijing, Tianjin, and Hebei starts to accelerate. The newly constructed Beijing-Zhangjiakou interurban railway is able to share 15%-20% of passenger flow. The newly constructed Xingyan Express, together with Beijing-Tibet and Beijing-Xinjiang Express, will link Beijing downtown area with Beijing Expo 2019park. By the day when Beijing Expo 2019 is being hosted, Expo Avenue will connect Yingchengzi Outlet of Beijing-Tibet Express with Beijing Expo 2019 Park, directly leading to the competition fields of Olympic Winter Games.