On November 2, the Organizing Committee of Beijing 2019 Beijing Expo held experts program review for provincial and municipal exhibition parks in Yanqing District, Beijing.
2017-11-04
On November 2, the Organizing Committee of 2019 China Beijing International Horticultural Exposition held experts program review for provincial and municipal exhibition parks in Yanqing District, Beijing. The first batch of programs, which participated in horticultural display in Chinese Horticultural Exhibition Area of Beijing Expo 2019, was for the first time unveiled. Leaders from State Forestry Administration, the China Council for the Promotion of International Trade, China Flower Association, Beijing World Horticultural Expo Coordination Bureau, and Yanqing District, the relevant provincial and municipal leaders, and experts attended the conference.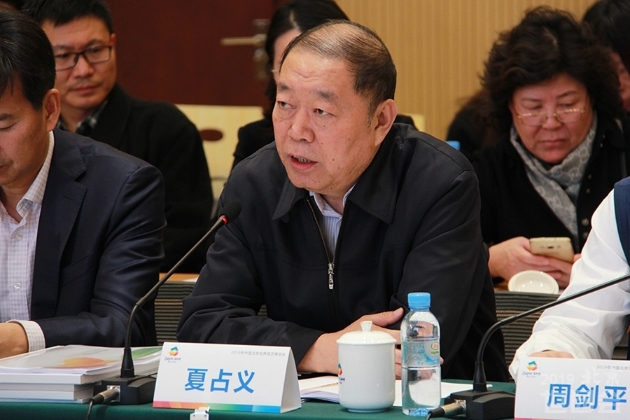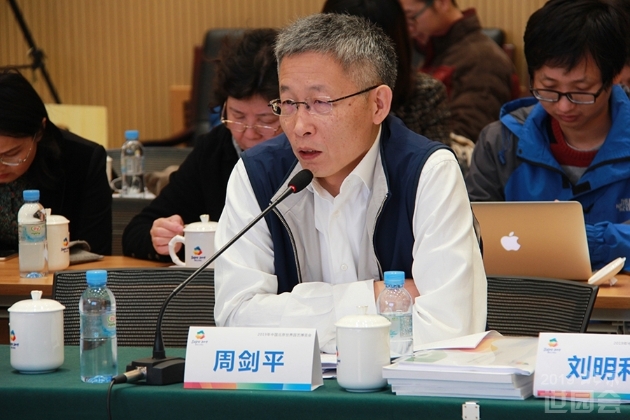 "The 19th CPC National Congress held in this October put forward a new goal, new direction, and new impetus for the construction of a beautiful China, and Beijing Expo 2019 will be a vivid practice of this concept. We are going to make the exhibition park an important window to show the beautiful life to the whole world on the 70th anniversary of the founding of the People's Republic of China," said Xia Zhanyi, Beijing Vice Mayor, and Deputy Director of Beijing's Executive Committee of the 2019 International Horticultural Exposition. Besides, Zhou Jianping, Deputy Director of Beijing World Horticultural Expo Coordination Bureau introduced the progress of the preparatory work for the expo.
The report of the 19th CPC National Congress pointed out that we should adhere to the harmonious coexistence between man and nature. The construction of ecological civilization is the millennium plan for the sustainable development of the Chinese nation. Man and nature is a community with a shared destiny. Human beings must respect nature, conform to nature, and protect nature. The modernization that we want to build is the modernization of the harmonious coexistence between man and nature. It is necessary not only to create more material and spiritual wealth to meet the growing needs of the people, but also to provide more high-quality ecological products to meet the growing needs for beautiful ecological environment.
The programs, which are closely linked to the theme of the Expo "Live Green, Live Better" and sub-theme "Green Development, Horticulture in life, Integration and blooming, Education and Future, and Spiritual Homeland", actively practice the green development concept and integrate into the natural scenery of different places.
Experts spoke highly of the innovative design concept, accurate theme, highlighted regional characteristics, rich plant configuration, and the overall high-quality design, and they believed Beijing Expo 2019 will be brilliant and exciting.
Landscape scenery
There is no lack of the design programs with beautiful and unique natural scenery as the carrier. Yunnan Province's exhibition area, with the ancient mountain trails across the whole park, feels the pulse of rivers; local architectures add finishing touch, and plants create landscape. It turns into 12 famous scenes in Yunnan, such as the Ancient Tea Horse Road, and Cherry Valley.
According to the description of An Idyllic Land of Peach-Blossom Spring, written by Tao Yuanming from Jin Dynasty, Jiangxi Exhibition Park, combined with the terrain height difference, makes full use of spatial changes to build a variety of space experience by a variety of water system forms and water sounds as clues, so as to create some scenes like waterfall, pastoral homes, perfectly interpreting the ideal landscape of the people's paradise.
Fujian Exhibition Park highlights the unique charm of the forest landscape and deep-seated humanities, and paid attention to creating the harmonious landscape relationship among Heave, Earth and human beings.
Ningxia Hui Autonomous Region adopts the method of modern natural landscape layout techniques to fully display its landscape characteristics as a place with rich agro-products outside the Great Wall. Ningxia has enriched the content of park and improved the sightseeing experience and accessibility through its unique landscape sketches.
Hainan Province creates a landscape island, park facilities, and landscape sketches by symbolizing some island-related elements, such as wave, and island, in an abstract way, so as to make tropical landscapes.
Henan Exhibition Park uses Yellow River as the main stream of the park for improving sightseeing, which fully demonstrates the achievements of ecological civilization, while promoting the horticulture into millions of households. The layout highlights the development of Henan Province as the core of the Central Plains, with three themed gardens, displaying the combination of unique horticultural plants and life.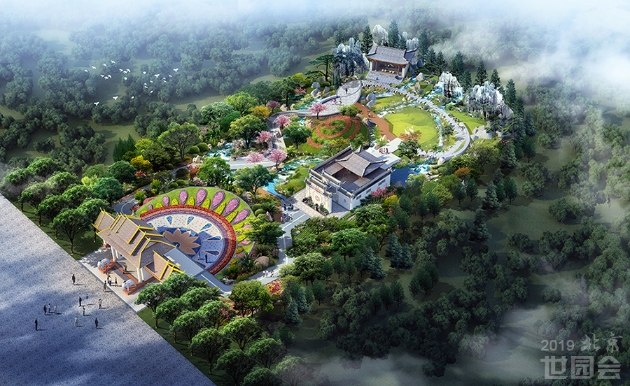 Yunnan Exhibition Park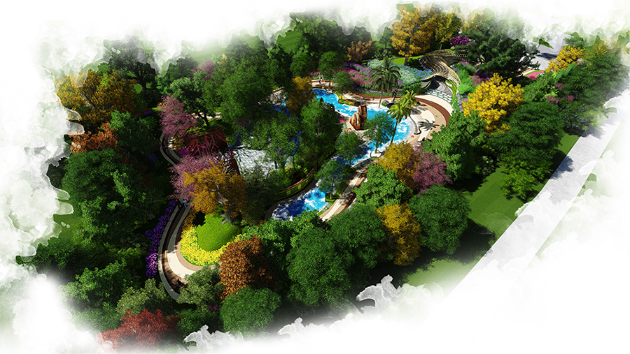 Hainan Exhibition Park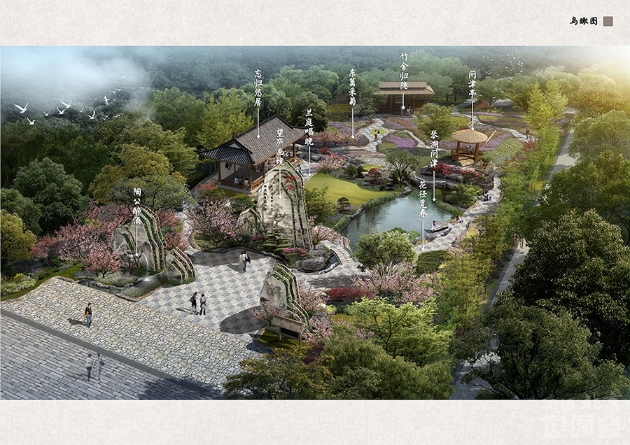 Jiangxi Exhibition Park
Humanistic qualities
In the two-day review session, the design programs that are full of humanistic qualities particularly attracted attention.
Taking the Lingnan Water Village as its skeleton, Guangdong Province adopts the concept of combining geometric symmetry with free style. It creates a changing landscape space through some techniques such as borrowed scenery, opposite scenery, and obstructive scenery. The architectures include foyer, exhibition hall, corridor, bridge, pavilion, and porch as well as glass greenhouse built with the new materials, exquisite and transparent. The form of water body is diversified; a group of landscapes adopt shrubs and scattered stones, mainly decorated with plants in North China, partly with Lingnan flowers and plants, to create the subtropical plant landscape in South China. The park vividly created the style of South Guangdong and Lingnan culture mood by use of Lingnan traditional techniques such as plastic stones, plastic hills, wood carving, brick carving, and ceramics, combined with new material and technology.
Hunan Province's Park extracts the unique historical culture and humanistic spirit, so that people obtain in-depth understanding of this beautiful land during sightseeing. The park focused on demonstrating horticultural technology, using scientific and technological means to achieve intelligent management, so as to facilitate sightseeing of visitors.
With the design concept of "displaying new Anhui with ancient rhyme", Anhui Exhibition Park displays the local traditional culture by constructing Huizhou-style gardens. Its design follows the layout of the ancient villages, where green mountains and rivers are dotted with white wall and black tiles and horse-head-shaped walls, creating a style of harmony between man and nature in the ancient village, and reflected the original flavor of Huizhou gardening in the natural planting methods of fruit and vegetable, flower and bonsai, economic crops and native vegetation.
Hubei Exhibition Park uses the modern abstract techniques to refine and sublimate the Jing-Chu culture symbols such as traditional totem and bamboo slips, cleverly integrates with the simple and modern landscape space, which perfectly interprets the symbiosis relationship between traditional Jing-Chu Culture and modern ecological civilization and gardening.
Shandong refined its unique cultural connotations such as Confucius thoughts, Mount Tai spirit, and Qilu culture, combined with landscape spatial pattern to show the characteristics and development level of Shandong horticultural culture. The park integrates its cultural connotations such as Mount Tai spirit, Confucius thoughts, Qilu culture, peony and agricultural cultures into the landscape design, and connects the humanities and the natural scenery through the unique gardening landscape technique.
Shanxi Province makes efforts in embodying its ancient charm, through landscape sketches such as the land carving, arch bridge, and gate, bearing history and culture, while exemplifying the original plant style. The park, taking green as the base, makes use of the different terrain differences to enrich landscape content, demonstrates gardening techniques like stone stacking and hill piling, and creates a natural integrated landscape.
Tianjin Exhibition Park, inspired by wide streets and narrow lanes at the 5th Avenue, extracts landscape context from 'cooked brown brick wall and white timber frame setting each other off under green shade,'whose space design shows rich regional characteristics of the city.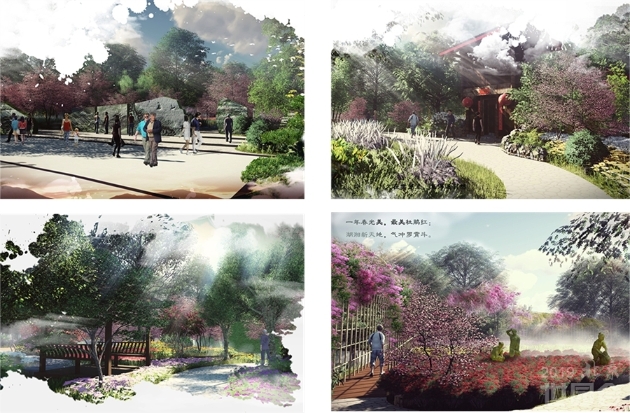 Hunan Exhibition Park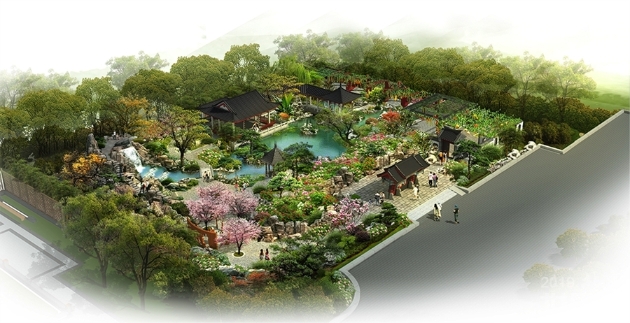 Shandong Exhibition Park
Guangxi Exhibition Park
Jiangsu Exhibition Park
Unique minority style
In addition, exhibition schemes incorporated with minority natural humanities are particularly characterized. The design scheme of Tibet Exhibition Park reads 'Pure Tibet,' which integrates three aspects of residential life, folk culture, and plateau scenery, with exhibition area arranged by geometric art approach. The main building, transplanting the Tibetan residential structure, is decorated with some Tibetan elements like colorful prayer flags, snow streams, and Gaisang flower fields, showing progressing, happy, and beautiful habitat scene of current Tibet.
Structure of Inner Mongolia Exhibition Park, with half comprised of traditional yurts, uses retractable Hana made of rose willow as skeleton, wrapped up with felt cloth. The other half employs steel frames as skeleton, with surface being enclosed by double-layer fiberglass as semicircle yurt modeling, with glass interlayer showing soil structure of Inner Mongolia. The inner space of yurts exhibits the traditional Mongolian life, mainly restoring furnishings and decorations of traditional yurts.
The review makes debut for provincial and municipal exhibition park schemes, marking preparatory work for China Exhibition Park in outdoor exhibition area of the 2019 Beijing Expo has achieved initial results. The park has currently reached filed construction conditions; construction is expected to commence at any time after approval of exhibition park schemes.
In addition, all preparatory work is progressing smoothly. In total of 25 construction teams with more than 4,000 workers are currently carrying out park construction operations in an all-round way. Construction of Tiantian Mountain filling, Weinei Lake anti-seepage, and slope masonry are now completed; half of landscape engineering has already been done; infrastructure construction including sewage, water supply, and electricity is half done; about 85 percent of utility tunnel construction has been completed. Initial work of China Pavilion, International Pavilion, and Life Experience Museum has been done; and international and domestic exhibition parks have conditions for site survey, site selection, design, and construction. Other supporting infrastructure constructions such Xing-Yan Highway and Expo Avenue are now carried out as planned.
So far, in total of 44 countries and international organizations including Germany, Singapore, Thailand, and Shanghai Cooperation Organization have confirmed their participation in writing. There are 26 countries including U.K, and Netherlands, and international organizations have made clear that they will participate in the 2019 Beijing Expo. In addition, consultation on joint exhibition of 14 countries from the Pacific Island Forum, 15 countries from the Caribbean Community, and 7 Central American countries is proceeding steadily.