In Commemoration of the 100-Day Countdown to Beijing Expo 2019
2019-01-29
—In Commemoration of the 100-Day Countdown to Beijing Expo 2019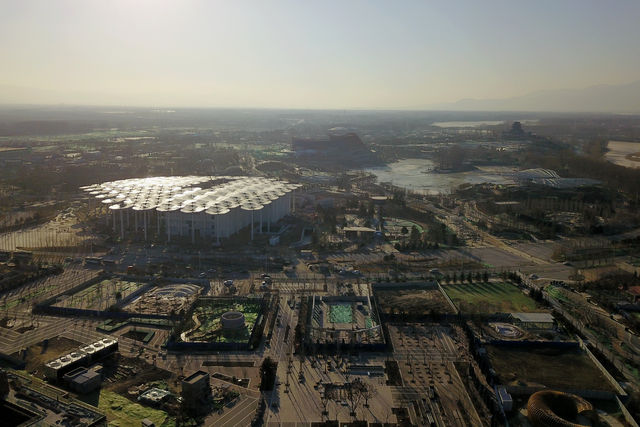 An aerial photo taken by a drone on January 16 shows the Park of Beijing Expo 2019 under construction
The magnificent, solemn Haituo Mountain and Guanmao Mountain face each other from distance and embrace the iced Guihe River at the foot of the Great Wall in Yanqing District, Beijing. By the river, several newly built roads crisscross each other, and one and another exhibition pavilions and gardens are emerging.
A hundred days later, on April 29, the International Horticultural Exhibition 2019 Beijing that is sponsored by the Chinese government and organized by the municipal government of Beijing will open here.
This is the second time for the world's highest-level horticultural even to take place in China after the Kunming Expo 20 years ago.
The expo concentrates horticultural masterpieces from around the world, with an aim to build a beautiful home for mankind. When the global top horticultural pageant opens, millions of visitors from every corner of the planet will walk into the "garden of flowers and trees" to enjoy an amazing picture in which man and nature coexist in harmony and share the outstanding achievements of the development of ecological civilization.
A Concentration of Global Horticultural Masterpieces and Rare Plant Species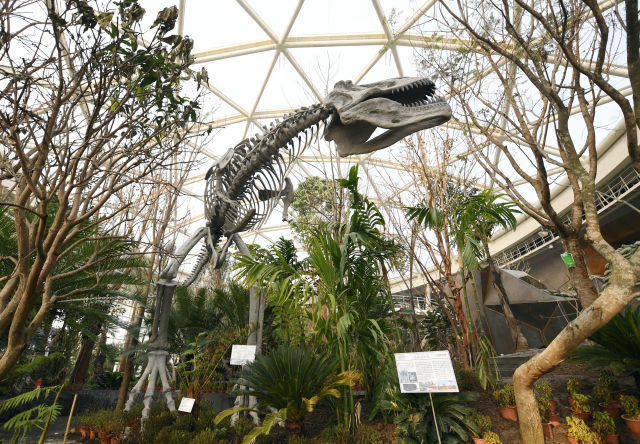 A photo taken on January 11 shows various rare plants in the Plant Pavilion of Beijing Expo 2019
Red sandalwood, golden lotus banana, red-stem fig... A number of rare plants have consecutively moved into the greenhouse that has an area of 3,000 square meters and a height of 20 meters. There, they have gradually got accustomed of the new environment and are vibrant with life.
The greenhouse is the Plant Pavilion, one of the four core pavilions for Beijing Expo 2019. "During the expo, the Plant Pavilion will concentrate more than 1,000 species of plants, including over 100 rare and endangered species, and present a wonderful 'kingdom of plants' to visitors," said Fu Zhongren, greenhouse landscaping technology manager of the Plant Pavilion.
The International Horticultural Exhibition is a global horticultural event approved by the International Association of Horticultural Producers (AIPH), a worldwide horticultural industry organization. The event is categorized into four levels—A1, B, C and D—according to its scale and duration. The A1 expo is the highest of them, and each country is allowed to host an A1 expo only once within 10 years. In 1999, Kunming became the first Chinese city to host an A1 expo. In 2012, Beijing officially won the bid for the 2019 Expo.
After more than two years of painstaking construction, the 503-hectare core area of the Expo Site, comprised of "One Center, Two Axes, Three Belts and Multiple Zones," has taken shape on the bank of the iced Guihe River. The four major pavilions, including the China Pavilion, International Pavilion, Life Experience Pavilion and Plant Pavilion, have been nearly completed. Moreover, construction of the Guihe River ecological leisure belt, horticultural life experience belt, and horticultural technological development belt, as well as the world horticultural exhibition zone and the Chinese horticultural exhibition zone, have also been nearly completed
Of all A1 expos, Beijing Expo 2019 sees the most participants. So far, 110 countries and international organizations have confirmed their participation. In addition, over 120 non-official participants, including 31 Chinese provinces, municipalities and autonomous regions, as well as China's Hong Kong, Macao and Taiwan, have also confirmed that they would appear at the expo.
So, what can tourists expect to watch and experience at this international horticultural pageant that is scheduled to last from April 29 through October 7, 2019? Its highlights are as follows:
Highlight 1: Rare Plants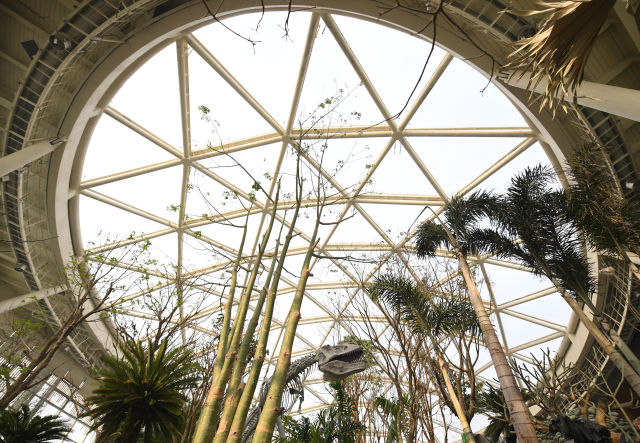 A photo taken on January 11 shows various rare plants in the Plant Pavilion of Beijing Expo 2019
According to Zhou Jianping, executive director general of Beijing International Horticultural Exhibition Coordination Bureau (BIHECB), Beijing Expo 2019 will concentrate new and rare plant species from around the world throughout the entire industrial chain from production, circulation to consumption, and demonstrate various plants such as flowers, fruits, vegetables, medicinal herbs and tea, including more than 1,200 flower species that are native and indigenous to China or cultivated by China. At the expo, tourists will not only enjoy more than 40 species of famous Chinese flowers such as the peony, lotus, orchid, Chinese rose, camellia and azalea and over 40 species of flowers that China holds independent intellectual property rights, but also have a "close contact" with unique flowering plants from all continents on the planet, including more than 40 new species from abroad. The expo will create an enchanting picture of dancing butterflies and singing birds in flowers.
Highlight 2: The Unique "Garden of Gardens"

Beijing Expo 2019 offers a chance for tourists to admire 100 outdoor gardens of various countries that vary in design style. Of them, there are traditional horticultural facilities highlighting pastoral charm, specialized horticultural masterpieces showcasing culture, history and tourism, and high-tech gardens demonstrating developmental achievements of modern horticultural technologies.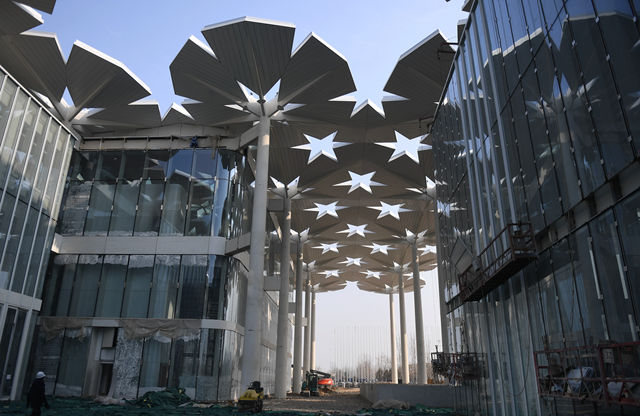 A photo taken on January 11 shows the International Pavilion of Beijing Expo 2019
According to Jiao Yutong, director of First Participants Department of BIHECB, the outdoor gardens of Beijing Expo 2019 include 41 international gardens, 31 domestic gardens of Chinese provinces, municipalities and autonomous regions, Hong Kong, Macao and Taiwan, and 25 gardens of research institutions and enterprises. By now, construction of the Expo Site has proceeded well, with 70 percent of projects already completed.
"All participating countries attach great importance to Beijing Expo 2019," said Jiao. "They regard the expo as not only a platform to display their national horticultural cultures and achievements but also a window to showcase their domestic tourism resources, in hopes of promoting cooperation and exchange with China in horticulture and agriculture."
Recently, despite the chilly weather, many workers have still been working hard to construct gardens. Some trees from other places have been transported into the Expo Site. Those international gardens, including the Japanese Garden, German Garden, Pakistani Garden and Thai Garden, have been basically completed. Moreover, some Chinese domestic gardens with local flavors have taken shape, such as the Zhejiang Garden showcasing landscape culture, the Anhui Garden demonstrating the charm of ancient Anhui, and the Yunnan Garden featuring a strong ethnic flavor.
Highlight 3: A Spectacular "Cultural Feast"

An aerial photo taken by a drone on January 11 shows the China Pavilion of Beijing Expo 2019
More than 2,500 cultural events will be held during the 162-day Beijing Expo 2019, presenting a sumptuous "cultural feast" to tourists. Apart from important events such as the opening and closing ceremonies and the China Pavilion Day, there will also be a series of specialized forums and international competitions, carnival parades, and exhibitions of world ethnic cultures. In general, the expo will "present a different theme every month, organize activities every week and exhibitions every day, and provide visitors with interactive programs anytime."
Jiang Zehui, president of China Flower Association and vice director of the Organizing Committee of Beijing Expo 2019, noted that seven international competitions concerning peony, Chinese rose, orchid, chrysanthemum, potted plants, bonsai, combined potted plants, and the 2019 International Floral Contest. "I hope the expo will fully demonstrate new species, technologies and achievements of world horticulture and gardening, so as to promote exchange and cooperation of the global horticultural community."
Harmonious Coexistence between Man and Nature and Upholding Priority on Ecological Protection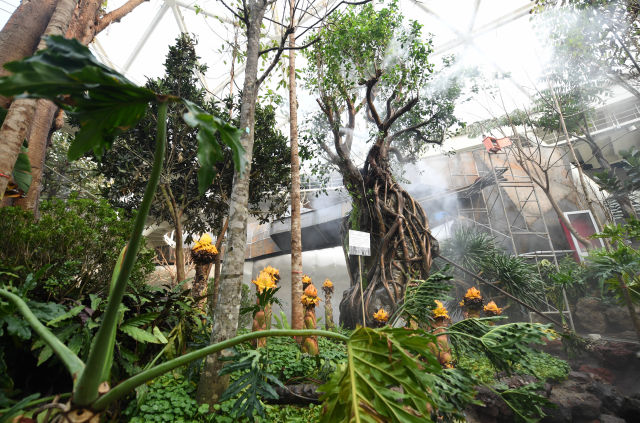 A photo taken on January 11 shows various rare plants in the Plant Pavilion of Beijing Expo 2019
"Lucid waters and lush mountains are invaluable assets." The slogan occupies a noticeable position near the entrance to Beijing Expo 2019.
Since the 18th National Congress of the Communist Party of China (CPC), the CPC Central Committee with Xi Jinping at the core has put building an ecological civilization at a position of strategic importance in the governance of China. As a major measure to implement Xi Jinping's thought on ecological civilization, hosting Beijing Expo 2019 becomes a vivid practice in promoting the concept of green development and pushing forward the Beautiful China initiative.
In the east of the Expo Site, hundreds of 15-meter-tall old willow trees form a "corridor of shade" that runs from south to north through the "street market" of the Life Experience Pavilion.
"When we designed the Life Experience Pavilion, the original shaded avenue attracted us," recalled Zheng Shiwei, chief designer of the Life Experience Pavilion. "Then, we decided to preserve the woods and build a village of North China style with crisscrossing roads under the shade of willow trees." To protect those trees, the design team adjusted their initial plan and changed the height of the structures according to the height of trees. This move, however, increased the construction difficulty. "Although the cost increased for this, we saved the trees. I believe this meets the maximal interest of ecology."
"Giving priority to ecology and learning from nature" is a principle in the planning of Beijing Expo 2019, and reflects the concept of green development that China intends to show the world. Therefore, the principle of being green, low-carbon, economical and sustainable has been upheld throughout the preparation for the expo, with an aim to leave, add and create as much green as possible to tourists.
"Beijing Expo 2019 is a pageant with plants as the lead role that demonstrates the relationship and dialogue between man and plants," said Zhou Jianping. The principle of "giving priority to ecology" is implemented not only in the planning, design and construction of the expo, but also all aspects of its operation and subsequent utilization.
—— "Leaving a forest, creating a green space and transforming a wetland." In its planning and construction process, Beijing Expo 2019 preserved about 50,000 trees that originally grew there, and formed the framework of the entire Expo Site with original plants. Moreover, more than 100,000 trees and shrubs were planted according to the need of landscaping and vegetation. The original wetland was transformed and dredged to add its beauty and increase its purifying capacity, thus providing an ideal living and breeding habitat for migratory birds.
——Actively building a "sponge Expo Site." Rainwater flows into rivers via channels like grassy ditches, dried streams and gravel gullies, thus maximally achieve natural storage, penetration and purification of rainwater in the Expo Site. Moreover, to increase the collection and utilization of rainwater, ecological grassy ditches totaling about 20 kilometers have been constructed in the Expo Site, the rainwater collection rate in sunken green spaces has reached at least 60 percent, and the water penetration rate of paved roads and squares is no less than 70 percent. To guarantee water quality, desilting basins were constructed to filter rainwater.
——The Guihe River Forest Park to the north of the Expo Site is the habitat for many animals and plants. A survey shows that the location of the Expo Site is home to over 100 species of plants, birds and insects. To avoid disturbing the subsistence and growth of local creatures, the Expo Site has a wetland buffer area for the purpose of protecting wetlands on the banks of the Guihe River and creating a riverside habitat for wildlife.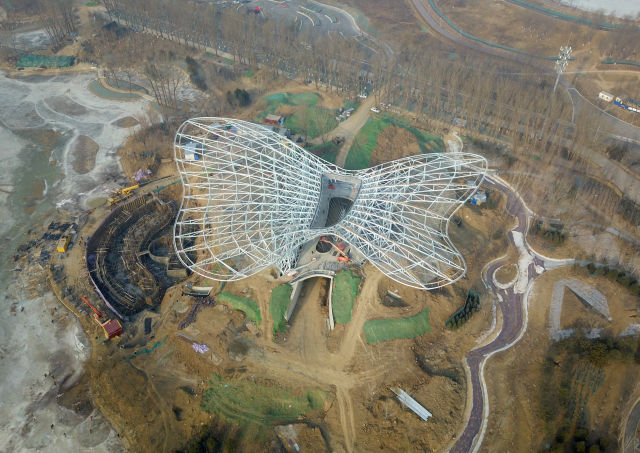 An aerial photo taken by a drone on January 11 shows the Performing Arts Center of Beijing Expo 2019
Adjacent to the wetland area in the north of the Expo Site is a fenced lawn. According to Dong Hui, director of the Site Planning Department of BIHECB, constructors of the Expo Site discovered dragonfly-like species such as Sympecma paedisca and Ischnura elegans there, which have strict requirements for the environment of their habitats. Therefore, the place was designated as a protected zone. Meanwhile, in view of the low biodiversity and high canopy density of existing vegetation, the Expo Site introduces "forest gaps" to enrich the plant community and attract more birds to inhabit here.
In addition, the green and energy-conserving concept can be seen everywhere in the construction of pavilions and gardens.
——The China Pavilion in the center of the Expo Site is a landmark structure of Beijing Expo 2019. It looks like a huge jade ruyi (an ornamental object symbolizing good luck) sitting in manmade terraced fields. It will serve as a window to showcase Chinese horticultural history and culture to the world.
According to Jing Quan, president of the Architecture Academy of China Architecture Research and Design Group, a large proportion of the China Pavilion is under the manmade terraced fields. Such a large-scale earth-covering architectural design can help the structure preserve humidity and resist heat, thus reducing the energy consumed for heating or cooling. The structure is equipped with a rainwater collection system on the roof and an underground rainwater storage pond. After treatment, recycled rainwater will be used to irrigate the terraced fields. Taking advantage of outer air ducts and inner natural ventilation system, the structure achieves air pre-cooling in summer and air pre-heating in winter, thus effectively reducing the energy consumption of its air-conditioning system. On the roof of its steel structure are installed 1,024 pieces of photovoltaic glass, which help the pavilion increase solar energy absorption efficiency.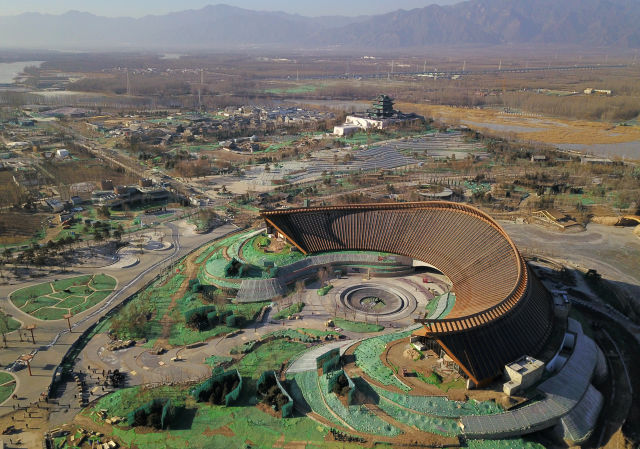 An aerial photo taken by a drone on January 16 shows the China Pavilion of Beijing Expo 2019
"The China Pavilion is a structure that has 'life' and can 'breathe' and fully demonstrates traditional Chinese architectural philosophy and Chinese wisdom that adapt to the times and local conditions," commented Jing Quan.
——Natural landscaping establishments using indigenous raw materials can be found everywhere in the China Pavilion, the Life Experience Pavilion and other pavilions and gardens, such as gabion walls laid with indigenous materials, rammed earth walls and stone plank roads. Guina Lake in the core area of the Expo Site was transformed from a fish pond. The earth dug from the pond was used to pile the 25-meter-tall Tiantian Hill, the highest point in the Expo Site, from which tourists can overlook the entire park.
"Beijing Expo 2019 should be a green, low-carbon ecological model," declared Ye Dahua, deputy director general of BIHECB. "The Expo Site maximally preserves the texture of original mountains, rivers and farmlands in the area to reduce disturbance for the original ecosystem while introducing biodiversity."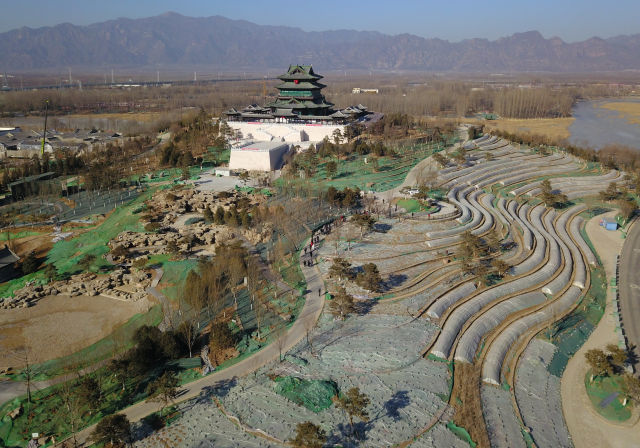 An aerial photo taken by a drone on January 16 shows the Pavilion of Eternal Peace of Beijing Expo 2019
The magnificent Pavilion of Eternal Peace towers in the Expo Site.
Looking into distance from the pavilion, one can see a spectacular vista of northern China, comprised of the rolling Yanshan Mountains and the picturesque Great Wall.
Since the 18th CPC National Congress, the concept of green development has implanted more deeply in the hearts of people. Ecological restoration campaigns aiming to protect mountains, rivers, forests, farmlands, lakes and grasslands have been carried out around the country, and the Beautiful China initiative has been continuously pushed forward. Beijing Expo 2019, which aims to present a beautiful home in which man and nature coexist in harmony, is one of the most spectacular epitomes of the Beautiful China initiative.
"Beijing Expo 2019 will become a garden for tourists to admire beautiful scenery and a paradise where visitors can enjoy recreation, a campus to popularize horticultural knowledge, a spiritual home to understand the relationship between man and nature, and a poetic land to return to nature," said Ye Dahua.
Comprehensive Tourist-centered Services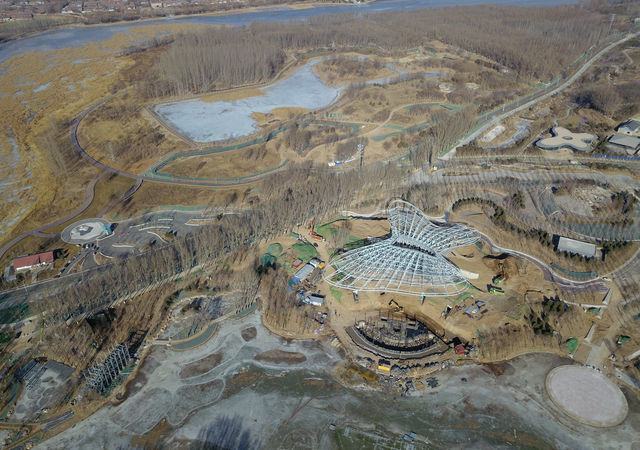 An aerial photo taken by a drone on January 11 shows the Performing Arts Center of Beijing Expo 2019
It is estimated that Beijing Expo 2019 will received 16 million tourists. How will it ensure tourists have comfortable travel experience when so many visitors flood into the Expo Site 100 days later? Yanqing District is a little far from downtown Beijing. This imposes challenges on transportation, catering and accommodation services of the Expo Site. In this context, how to ensure tourists enter and exit smoothly, have a good time, and enjoy beautiful scenery and delicious meals?
On January 1, 2019, the Daxing-Yanqing section of the Beijing-Chongli Expressway, a major transportation project for Beijing Expo 2019 and the 2022 Beijing Winter Olympics, opened to traffic. As Beijing's second expressway towards northwest after the Beijing-Tibet Expressway, it effectively relieved the traffic bottleneck impeding the development of Yanqing. The completion of the section has greatly facilitated citizens and tourists who need to commute between Beijing's downtown area and Yanqing District. In the past, they suffered severe traffic congestion. "It is now faster and more convenient to go to Yanqing."
According to Wu Shijiang, deputy district chief of Yanqing District, in order to guarantee convenient transportation to the Expo Site, Yanqing coordinated with the railway authority to expand the capacity of the suburban S2 rail line, on which 16-18 pairs of trains can transport about 33,000 passengers each day. Moreover, eight new bus routes will open to link downtown Beijing to the Expo Site. To date, nine major highways to the Expo Site built by Yanqing have been put into operation. In the future, a total of 10 parking lots will open around the Expo Site, offering more than 20,000 parking spaces. These measures aim to meet tourists' transport demand.
Moreover, Yanqing has increased the departure frequency of buses operating on the routes near the Expo Site, established two specialized bus routes for the expo, provided parking spaces with fast charging piles, shared bicycles, public rented bicycles, time-share rented cars, etc. to satisfy the diversified needs of different travelers.
In terms of catering and accommodation, Yanqing renovated six food streets. During the expo, 301 catering companies within five kilometers around the Expo Site will provide more than 20,000 seats for diners. In addition, Yanqing has chosen over 20 hotels to provide more than 2,000 guestrooms. BIHECB will equip 17 catering companies in the Expo Site, and temporary fast-food stands will be added with the increase of tourist traffics.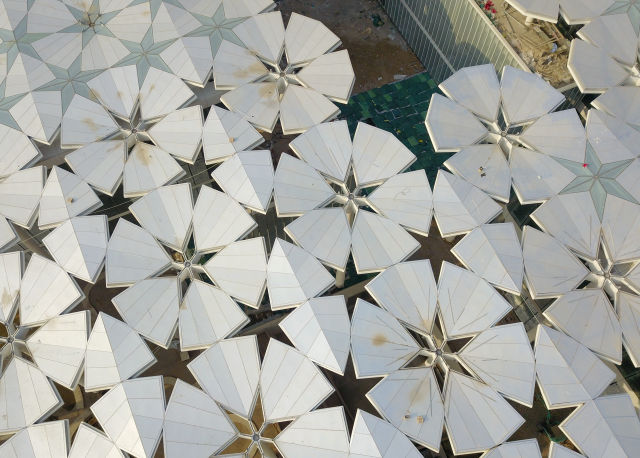 An aerial photo taken by a drone on January 11 shows the International Pavilion
According to Zheng Aijuan, deputy director of the Tourism Commission of Yanqing District, to enhance the district's reception capacity during the expo, Yanqing has constructed a group of medium- and high-end family hotels under the brand of "Expo Home" over the past couple of years. It is estimated that the number of "Expo Home" family hotels will reach 200 when the expo opens. Those family hotels and guesthouses are mostly renovated from idle rural residents in the district and boast simple but natural appeal. They have attracted many urbanites to stay.
In 2018, Yanqing particularly developed 12 theme travel itineraries for tourists to enjoy during Beijing Expo 2019.
How to Ensure Tourists Need Not to Wait in Long Queues to Buy Tickets

According to Wang Chuncheng, deputy director general of BIHECB, tourists may book tickets for Beijing Expo 2019 online, and need only swap their ID cards to enter the Expo Site, without the need to transfer paper tickets. According to different time slots and demand of different groups of tourists, the tickets are categorized into standard day ticket, designated day ticket, three-visit ticket and through ticket. Meanwhile, discounted tickets and group tickets are available to special groups of people, such as the disabled, the elderly, children, students, and servicemen. In addition, overnight tickets are provided to meet the unique demand of some tourists, thus enabling them to avoid overcrowding and have a better travel experience.

To increase the comfortableness of tourists, the Expo Site is equipped with seats and other facilities for 15,000 people to take a rest at the same time, as well as 200 electric carts. Based on the existing forest park and the established forest and wetland system, it provides rest corridors, pedestrian avenues and slow-walk passages with a total length of four kilometers for tourists to take a walk casually.
So far, the construction of the Expo Site has been nearly completed. Major pavilions have been ready for exhibition preparation, and exhibition teams are entering an early stage of preparation. The infrastructure and supporting facilities of the Expo Site have also been basically completed.
"I'm satisfied with the overall progress of the preparation work for Beijing Expo 2019," remarked Tim Briercliffe, secretary-general of the AIPH. "This expo will draw global participation and increase people's awareness of its theme: live green, live better"
People around the world are expecting Beijing Expo 2019 to open at the foot of the Great Wall and on the bank of the Guihe River 100 days later. A "garden of gardens" featuring blooming flowers, rare trees, dense forests and lush vegetation is opening her arms to tourists from every corner of the world.
Text by Xinhua journalists Luo Guojun, Xu Ming and Wei Mengjia
Photos by Xinhua journalist Zhang Chenlin